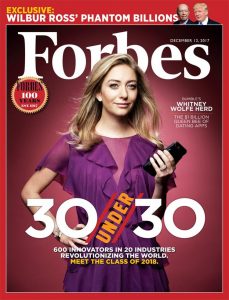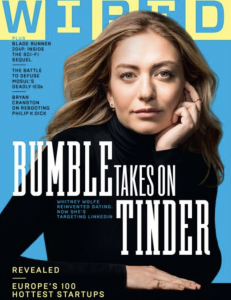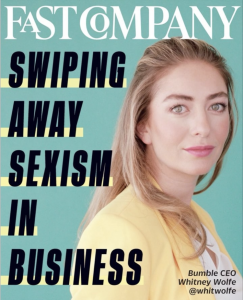 She has just turned 28 and is already a luminary in the tech world as she continues to revolutionise the online dating and business scene. Whitney Wolfe is a member of Forbes 2017 – 30 under 30 Consumer Technology List and has just turned down a $450 million dollar buyout (and we thought we'd had a busy year..!).
After abruptly leaving Tinder, Co-Founder Wolfe set out to change dating's status quo. She is now a strong advocate for feminism, women in the workforce and equality.
These are just a few reasons Wolfe is more than deserving of our "WOMENINSTEM" title.
HOW DID IT ALL BEGIN?
It all began with TINDER, which Wolfe co-founded! Tinder, now boasts 50 million users and many believe is partly responsible for the casual 'hook-up' sex culture that is becoming an endemic. Wolfe departed Tinder in April 2014 after she made scandalous allegations that she was sexually harassed and discriminated against at work, stripped of her co-founder title, and unfairly pushed out of the company. Wolfe filed a formal complaint and the case was of course settled for an undisclosed sum –  an experience which Wolfe says turned her off the dating app business entirely.
Having left Tinder, Wolfe began seeking new opportunities. The online abuse she faced after her Tinder departure sparked an idea.
"It got me thinking about what was broken on the internet, and how free commentary on these platforms, that are built to allow people to express themselves, can have a negative implication."
 After the horrific Tinder ordeal, Wolf decided that she was going to use her experience in a positive way. She decided that she wanted to disrupt the status quo and set out to reinvent the dating scene. After relentless research and hours of focus groups, she found users were increasingly perturbed by the issue of abuse – both misogyny online and actual abuse of dating services.
Her dream – "to start a network that encouraged positive online behaviour versus bullying, exclusion and all that nasty stuff – I know, I've lived through it."
Determined to improve a woman's experience online, Bumble was born. The first dating app that lets the women make the first move!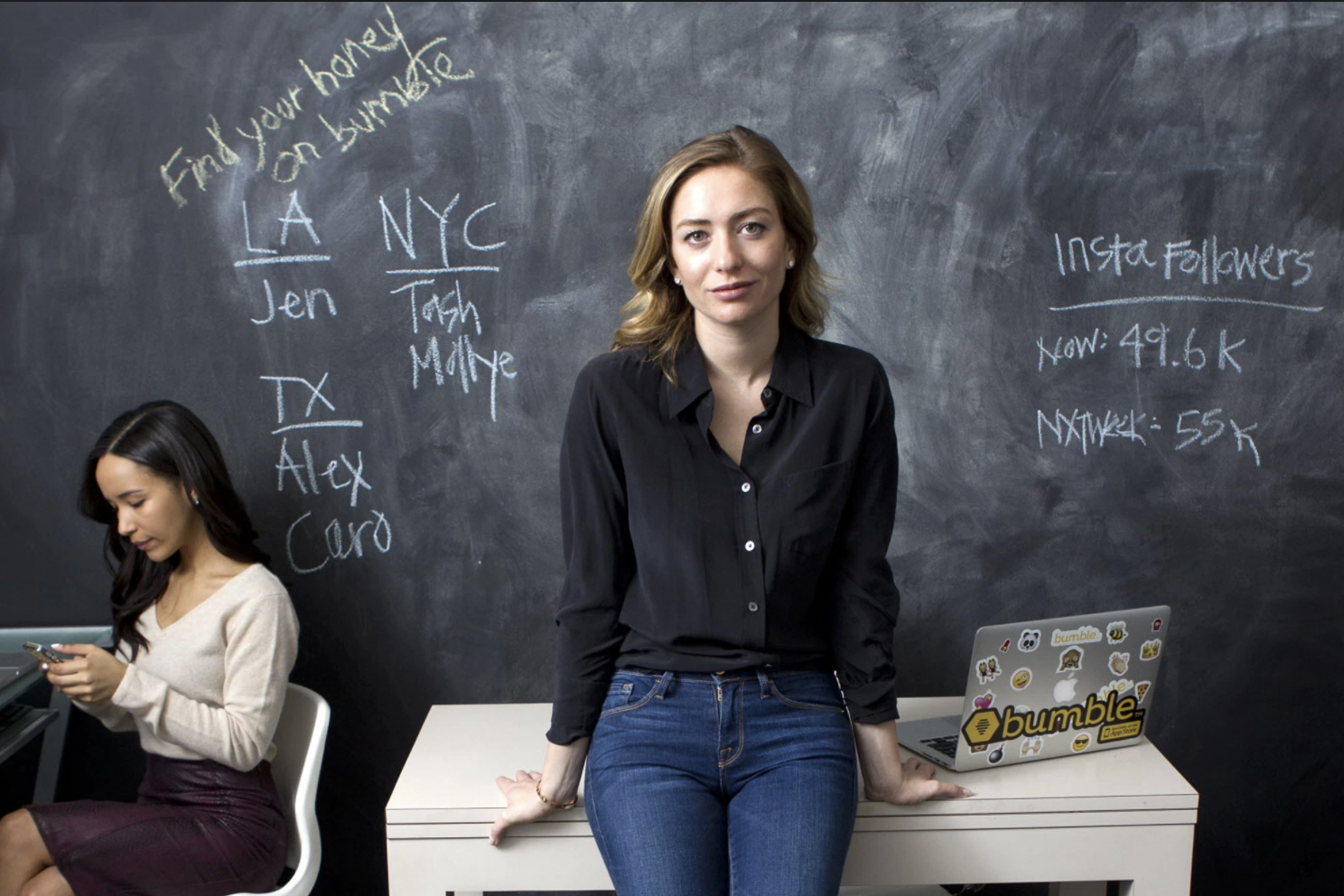 HER CREATION – BUMBLE.
 Bumble – a safe space for people (women in particular) to communicate online. Bumble works much like its rival Tinder (swipe right on a picture if you're interested, left if you're not), but once a match has been established between two people, only the woman can initiate conversation. 
Since its launch at the end of 2014, Bumble has attracted 3.5 million users – and is currently accumulating new users at a rate of 25,000 a day.
Bumble's workforce is 80% female and it has shown a zero-tolerance approach to sexist comments on the app.
 "We're going to continue to build a world that makes small-minded, misogynist boys like you outdated"
Having originated out of Wolfe's hometown of Austin, Texas, by a small, almost exclusively female team, Bumble is growing exponentially and we can't wait to watch Wolfe receive the success she so much deserves.

Despite being unapologetically set on empowering women, Wolfe is also a complete realist.
While her business is setting an example for female empowerment, Wolfe understands that the dating app can't function without men. What's more is Wolfe clearly also considers men to have been important in her career progression, naming Andreev (CEO of dating app Badoo) as her biggest mentor.
"I'm so tired of this notion that women only need to support women, why can't we all support each other?" she says. "I've run into women who can be highly problematic, detrimental and mean, just like I've seen that in men."
WHERE TO FROM HERE? 
Wolfe's latest venture is a bi-product of Bumble – Bumble Bizz, which has JUST gone live. It is another tool aiming to give women a more equal proportion of control – this time in their careers.
The professional networking app allows people to create a profile that includes details of their past jobs, their skills and what opportunities they are looking for, but doesn't include having to disclose their age. Users can also search their surrounding area for potential business contacts. Like Bumble, women have to make the first move. What a fantastic idea – It is about time LinkedIn had some fierce competition!
More on Bumble Bizz shortly – it is deserving of a whole post of its own!
ISN'T SHE TOTALLY INSPIRING?
Sitting at the helm of one of the fastest growing mobile apps in the world Wolfe has an incredible amount of knowledge to impart on the tech industry. Bumble has grown exponentially under Wolfe's watch, and has singlehandedly disrupted the way people connect online and off.
These days there is a bit of an unwritten tech-industry stigma that men run all the huge monster companies and companies launched, and run, by women are much smaller. Wolfe however, certainly continues to prove this stigma wrong and we sure are proud!
For budding entrepreneurs who want to replicate her success, she has this advice: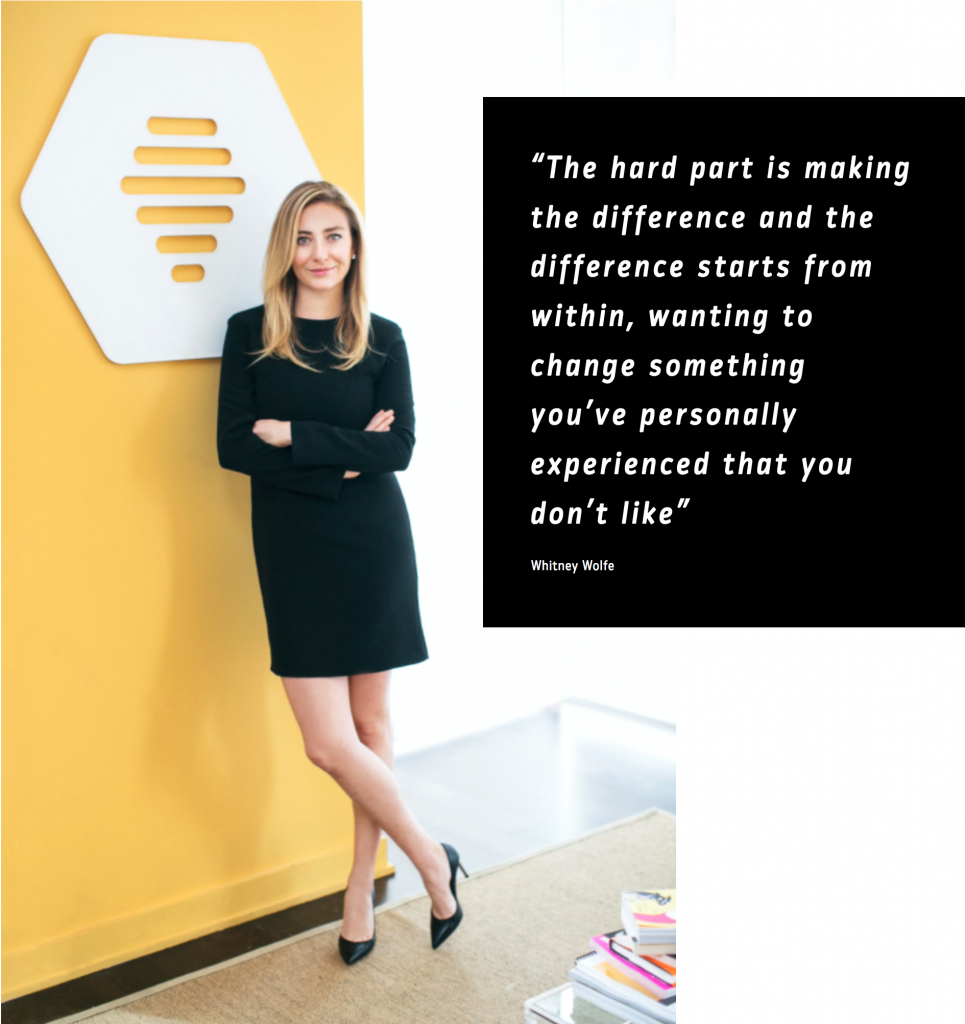 That is how Bumble was born – Wolfe refused to sit about and watch how women were being treated in the dating app scene.
By now we are sure you can understand why Wolfe is so deserving of our WOMENINSTEM title. Fiercely motivated, successful and a leader in her field, she is set on empowering and protecting women, while also paying homage to the fact that we simply cannot live without our beloved men!
Daring and disruptive – we can't wait to see how Bumble Bizz develops, and we are sure she won't stop there!